50-Araw Linggó: Misa sa Araw, 6/5/2022
Leksyonaryo 63
---

Mga Awit sa Kapistahang Itó
Mga Pagbasa
Magandáng Balità Biblia © 1980 Philippine Bible Society. All rights reserved.
---
Uwian
,
Ugnay
,
Yaman
,
Sinugboanon
,
Ilocano
,
Capampangan
,
Pangasinan
---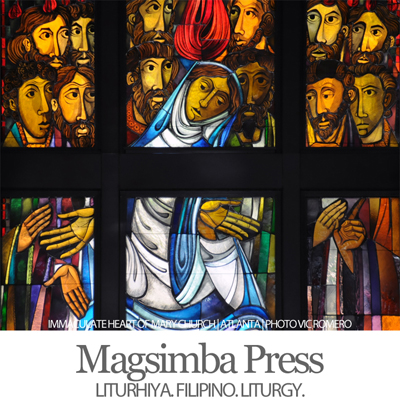 Welcome.
Magsimba. Litúrhiya. Filipino. www.magsimba.com Filipino Catholic Liturgical Resources Since 2006
---
Please pray for our work and make a donation. Please help. Salamat po.
---
Ang Aming Pakay: Mga yaman ng Litúrhiyang Tagalog | Litúrhiyang Filipino sa paghahandâ ng lingguhang pagdiriwang sa Misang Tagalog | Misang Filipino, sa Eukaristiya, ng pagliligtás ni Hesús sa atin: mga awit, salmong Tagalog, salmong Filipino, pagbasa sa Filipino | Tagalog.
Our mission: Filipino liturgy | Tagalog liturgy resources for preparing for the Tagalog Mass | Filipino Mass, the weekly celebration in the Eucharist of our redemption by Jesus: Tagalog hymns, Tagalog songs, Tagalog psalms, Tagalog readings, Filipino hymns, Filipino songs, Filipino psalms, Filipino readings, Pilipino hymns, Pilipino songs, Pilipino psalms, Pilipino readings for the Tagalog Eucharist, Filipino Eucharist.
Karapatáng-sipì © 2006-2020 Magsimba Press. Vic Romero, Editor. Nakabukód lahát ang karapatán. All rights reserved. Since 2006-08-04. Write to us at

info@magsimba.com. Dumadalaw kayó mulâ sa IP 44.210.21.70
---